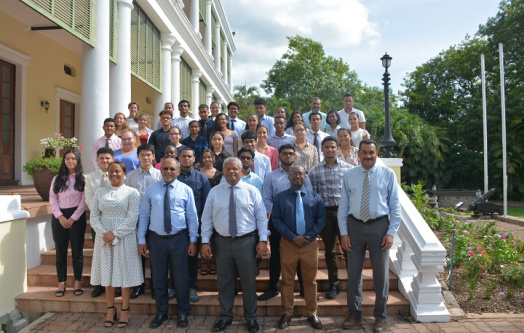 President Wavel Ramkalawan welcomed a group of Outstanding Cambridge Learner Awards recipients at State House this morning. The group included three students who have been awarded as the top in the world; Rahul Rajesh and Turissa Sullivan from Independent School, and Sylvius Laporte from Seychelles Institute of Arts and Design.
The Cambridge Assessment International Education chose the students based on how well they performed on the October and November 2021 exams in each of the subjects they took.
The President congratulated the students for their outstanding performance and expressed how the country is proud of their achievement. For those proceeding on overseas studies, he advised them to embrace other cultures, to make full use of their studies, and at the same time to think in terms of how when they come back to Seychelles they can be part of creating a new culture and can help raise standards, among others. For those who will be continuing their A-level studies, he also has words of encouragement for them to remain focus.
"I am very impressed with the results that you have scored for our small country Seychelles, despite the COVID-19 pandemic, and yet you have surpassed all expectations. On behalf of Seychelles, I want to congratulate you all. Whenever I see our young people performing extremely well, I have come to realise that you will be the ones in future leading our country in the various domains after you finish your further studies and graduate. I wish you strength, wisdom, and courage," said President Ramkalawan.
In his welcoming address, the Minister for Education, Dr. Justin Valentin also praised the students for their excellent results and launched a special request to those that are aiming to do their IGCSE and A level to see these batches of students as an inspiration to succeed in their studies.
"Last year you did your IGCSE and A level examination, you did extremely well. The whole nation is very proud of your achievement. I would also like to make a special request to the teachers in the school, please do not be afraid to challenge your students and enroll them in extended examinations rather than only in core papers. The Ministry of Education would like to give the students the best. I also want to commend other students doing different courses such as City and Guilds, ACCA, and AAT at our various schools, doing their best in their studies. Continue to work hard and achieve good results for yourself, your family, and your country," said the Minister.
He added the need to also develop sports and culture in education as they also help students to engage in their studies in a positive way.
The 36 students hail from different schools on Mahé and Praslin namely, Independent School, Seychelles Institute of Distance and Open Learning (Sidol), Ile Perseverance secondary school, School of Advanced Level Studies (Sals), Pointe Larue secondary school, Vijay International School (Praslin) and English River secondary school.
Among them, there are students who emerged best in their subjects locally, those that emerged among the top 10 internationally as well as those who did not only sored straight-A but also straight A stars.
The ceremony ended with the vote of thanks by Ms. Turissa Sullivan from Independent School.
Also present this morning at State House to congratulate the students were the Vice President, Mr. Ahmed Afif, Principal Secretary for Education, Ms. Merna Eulentin, Principal Secretary of the Education Sector Development department, Mr. John Lesperance, lecturers and other distinguished guests.