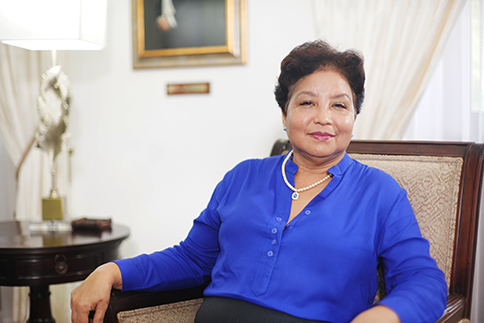 First Lady of the Republic of Seychelles
Mrs Linda Ramkalawan 
Linda Ramkalawan was born on Mahé, the principal island of Seychelles, where she grew up in Bel Ombre. She is married to President Wavel Ramkalawan and mother of three boys: Samuel, Caleb and Amos.
Mrs Ramkalawan has had a long and successful career in the tourism industry. She joined Le Meridien Fisherman's Cove hotel straight after completing her studies in 1980, occupying the post of receptionist. She later moved to the accounts department and occupied different positions in accounts over the years. In 2001, she was appointed Financial Controller and a few years later as the Finance Director.
Le Meridien Fisherman's Cove was part of the Starwood hotels and resorts, an American hotel and Leisure Company based in Connecticut in the US, and Mrs Ramkalawan won the Starwood President Award twice during the course of her career with them. The Starwood President Award is an annual award the company bestows upon members in recognition of their passion for their work and their commitment to their employees. In late 2019, after almost 40 years at Le Meridien Fisherman's Cove hotel (now part of the Marriott International) Mrs Ramkalawan retired.
On 26th October 2020, Mrs. Linda Ramkalawan became the First Lady of the President of the Republic of Seychelles.