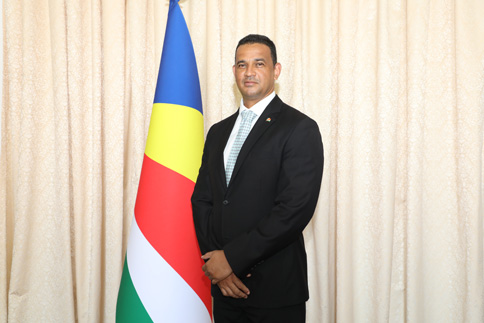 Chief Presidential Protocol - Mr. Jonathan Berlouis
Jonathan Berlouis was born on 11th November 1974 and completed his primary and secondary education at the Mont Fleuri School. He is married and has one daughter.
Mr. Berlouis holds a Master of Arts degree in Leadership and Strategy from the Institute of Public Administration (IPA), National University of Ireland, where he studied from 2012 to 2013.
After his O Level Studies at the School of Humanities & Science - Seychelles Polytechnic in 1992, Mr. Berlouis pursued a two year training at the School of Health where in obtained a Certificate in Pharmaceutical Dispensing.
From 2009 to 2012, Mr Berlouis followed an Advanced Diploma in Education at the National Institute of Education (NIE). He followed many other courses that helped in his development throughout the years, which included a Certificate of Achievement in Foundation course in Offshore Corporation, Certificate in Seychelles Offshore Products Level One, GCE Advanced Level Course in Law and Certificate in French Business Module "Français des Affaires".
Mr. Berlouis started his career as a Pharmaceutical Dispenser at Ministry of Health & Social Service in 1996. In 2003, he was promoted as the Quality Control in Drug Quality Control Lab Technician and then to Technician. In 2008, he worked for the Ministry of Education as a Pharmaceutical Science lecturer. On 01st August 2013, Mr. Berlouis joined the then Ministry of Foreign Affairs (MFA), Regional Integration Division. (Under Common Market for Eastern and Southern Africa (COMESA) Structure) as a Development Programme Officer.
In November 2015, he was transferred to the Protocol Treaties and Consular Affairs Division in the Ministry of Foreign Affairs and Transport – Department of Foreign Affairs as a Senior Protocol Officer.
In November 2016, he was transferred to the Office of the President at the State House under the President's Private Office as Senior Presidential Protocol Officer. In April 2021, he was promoted as the Director for Presidential Protocol Affairs.
He became the Chief of Presidential Protocol Affairs on 01st February 2022.