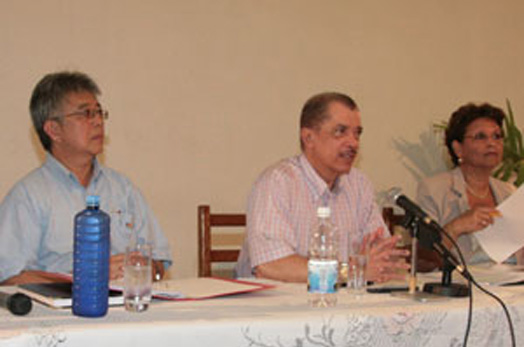 June 9, 2010 -- President James Michel yesterday visited the Maritime Training Centre as part of a series of visit to post-secondary educational institutions.
The President met with the students of the MTC and discussed their studies,  their aspirations as well as visiting their classrooms to see the way they learn to repair fishing gear, first-aid at sea, and maritime whipping and ends.
"I am impressed to see the interest of young people in maritime studies and the also the number of girls who are interested in a maritime career. I want to encourage them to continue to develop this sector as the second pillar of our economy," said President Michel.
"The resources of the ocean are important for creating wealth for the nation, and what they are studying is a noble career. While working at sea, whether in fisheries, or for the Coast Guard fighting piracy and illegal fisheries, the country is counting on them."
Many of the MTC students gave their opinions, suggestions and insights to the Presidents during a question and answer session.
Students asked the President questions concerning improvement of internet access facilities, hygiene, and practical lessons at the Centre. They also asked if their examinations and certificates would be recognised internationally. The President said that steps are being taken to get the MTC recognition and certification from the International Maritime Organisation.
The President said that the Government is doing its maximum to improve the MTC school environment and that a new Maritime Training Centre building would be completed by the end of the year.