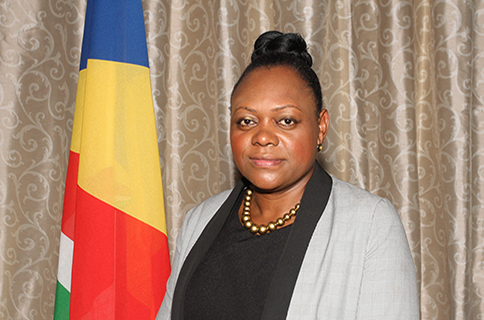 Laurie-mae Lepathy-Ansah
Laurie-mae Lepathy-Ansah was born on 13 January 1979. She is married with two children.
An avid French student, at secondary level, Laurie-mae represented the Seychelles three times in the regional Orthography competition held in La Reunion and later on was voted best French student at what was then known as the Seychelles Polytechnic.
Following the successful completion of her A Levels in English, French and history in 1998, she headed to London, UK, where she studied for a Bachelor's degree in English and French at the University of Reading. Having graduated with a 2.1 class in 2003, Laurie-mae returned to the Seychelles where she was employed by the Seychelles Broadcasting Corporation (SBC) as a radio and TV journalist. Laurie-mae held this post up to three years before returning to the UK where she pursued a career in internal and external communications.
Between late 2006 and 2018, Laurie-mae worked as a communications and marketing executive, progressing to senior communications consultant and digital communications manager. Her career spanned across leading businesses and industries such as Oil and Gas (BP), Telecommunications (BT), banking (HSBC), investments (The London Stock Exchange), insurance (Prudential plc), pensions (UK Pension Protection Fund) Legal (Clifford Chance) and energy (EDF Energy). She also made essential contribution working briefly in the exam divisions of Ed-Excel and University College London.
She holds UK qualifications in project management, plain English writing, leadership management and digital management.
Laurie-mae was appointed to the position of communications advisor in the office of the President in February 2019.